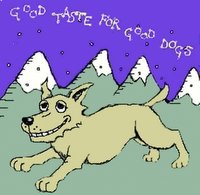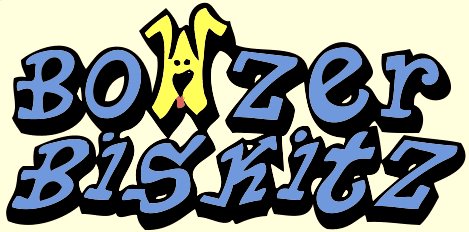 Tired of purchasing hard, smelly dog biscuits containing unpronounceable ingredients, we ventured into creating biscuits that we felt comfy in giving our girlies, Tasha and Tipper. We started sharing our biskitz with the good doggie folks in the neighborhood before venturing forth into a small biscuit biz. Tasha and Tipper (TnT) couldn't be more pleased with our success. Remember: though Bowzer Biskitz are light in syllables, they are loaded with quality and taste for the ones you love.

Good Taste For Good Dogs!

copyright Bowzer Biskitz 2003-2009






clip art provided by
Noetic Art

Click on
Biskitz
to order yours today!
Tasha (our creative director) enjoys strutting her stuff, while exercising her arthritic hips, at the canine therapy pool run by the fine folks of the Canine Rehabilitation and Conditioning Group. The therapists there are helping to strengthen Tasha's joints by having her walk on the underwater treadmill, or swimming in their canine endless pool.

Tasha's arthritis treatments also include regular acupuncture sessions.  After a good poke or two, Tasha is easily able to keep up with her best friend and coconspirator Tipper (head of Quality Assurance).


Tasha's weekly dip at
CRCG
Visit
The Smith's Dog Lodge
, Tipper's doggy day care of choice.  Tipper loves visiting her pals at Uncle Jame's and Nancy's home style loving doggy lodge.
Catch Tipper's latest movie, at a theater
here
.